So we talked about wedding coasters before.
Personalized wedding coasters to be exact!
Yes...
It's the little details that makes your wedding unique.
It's the little details that guests notice most at every wedding.
It's the little things too, that makes your guests remember the wedding.
Custom coasters go beyond functional table settings to become beautiful keepsakes for your wedding guests.
You've read this somewhere before, huh?
But...
Did you know?
There are various materials can be made into coasters.
Seriously!
You can even piled up a few old clothing and turn them into coasters. But that's not for wedding...
There are lots of material that can be made into coasters. We posted about this matter before. 
And there are thick and thin coasters too!
Different material will results in different thickness of coasters. And it results in different absorption rate as well.
Okay! Enough with the details...
Since wedding coasters will be used at the reception table and anywhere around your wedding—bachelor or bachelorette parties, rehearsal dinners and maybe bridal showers—coasters are the classical needs.
Watch out for coasters that will compliment your event theme and look out for one that is truly useful.
LET'S REVIEW 5 MORE EXCLUSIVE COASTER SAMPLES AND IDEAS FOR YOUR WEDDING COASTERS, SHALL WE?
*click the image for larger view*
Before that!
Are you looking for a disposable coasters that you can simply use ONLY during the event and throw them away after the party?
Or...
Good-looking, useful coasters that you utilize for your party AND will keep them around for future use?
Decision...decision...
Choose one now and it'll be easier to choose what kind of coaster you really need.
Okay, number one on our list for wedding coaster...
1. Paper Coasters
 This one is definitely easier said AND done.
Pick out your favorite pattern, custom it to your favorite color & add a line of heartwarming quote.
Easy!
If you're up for temporary yet stylish coasters for the wedding, this is the one.
Print a simple pattern to match your venue or theme.
Better yet, just print the couple's initials. Simple!
2. Cork Coasters
For an all white, pastel and plain color theme wedding, adding these coasters made of cork is perfect.
The original color of cork will add a few classic touch to the table.
Also, a cute printed photo on them or the couple's name should do the trick.
Oh, yes! Make them as part of your 'Save the Date' invitation.
Your guest will surely not forget this big moment.
Or you can put an extra efforts and print up various and random styles for your guest.
Adding fun and uniqueness to each receiver.
Here's another ideas:
Aren't they brilliant?
Simple, catchy symbol always do the trick!
3. Wooden C
oasters
Image Source: Pinterest
Classic never goes out of style.
These wooden, printed coasters are... EVERYTHING!
Just the perfect match for your plain, decorated table.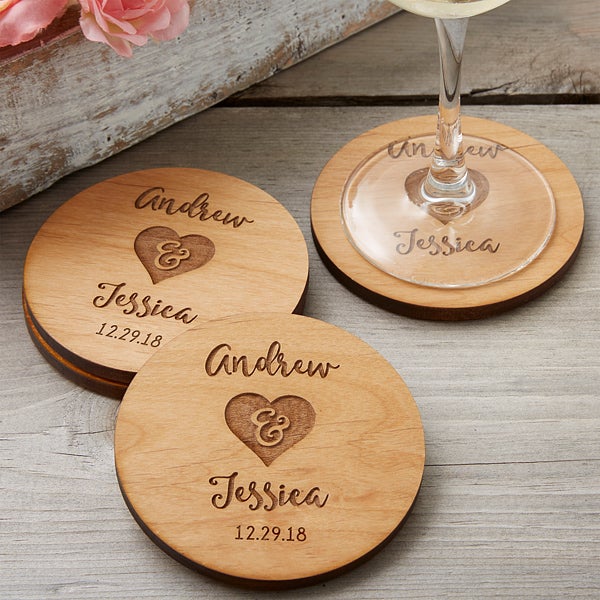 Image Source 1 | 2 | 3 | 4 | 5 


It's simply enough. Need I say more?!
Okay, since picture's worth a thousand words, here's more lovely photos: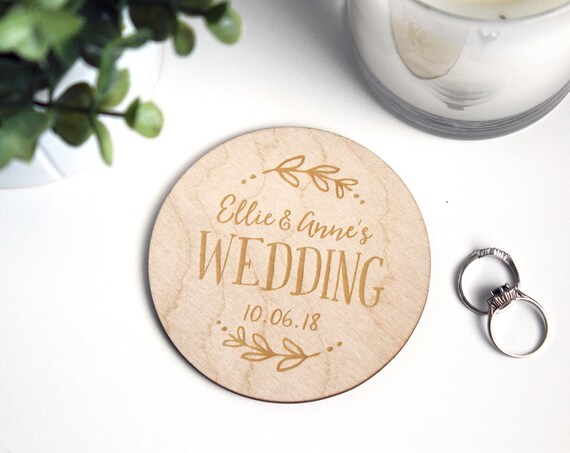 Image Source 1 | 2 | 3 | 4 | 5 | 6


It's beautiful, isn't it obvious?
But if you're not into classic, nature looking coasters, let's continue, shall we?
4. Glass Coasters (See Through)
This glassy looking is so perfect for a special day!
No doubt!
BUT!
Reminder: if you're making these as door-gift or personalized it for each guest, it's going to cost way more considering you'll be needing a packaging for them.
Also, if you're using them as wedding decoration, pay extra attention to its quality.
Get a really high-quality glass coasters that won't easily break or it'll break your heart to see them shattered & wasted...
Either way, let's worry for that later... Surely your guests will not do that. Right?
5. Ceramic C
oasters
If you're new here, we've been dedicating our love to ceramic coasters.
Why?
Ehem.
Well... Where do we start?
We explains why coasters are essential before. And how coasters just work!
Also, we already posted various unique coasters designs.
Lovely printed ones like these work too.
Adding up a splash of colors to the table!
Plan your own patterns & style then print them.
Don't forget to put your name on it!
Or a simple 'Thank You' coasters are enough. 
THERE YOU GO!
We hope this series has been helpful. Check out Chapter 1 and come back here for more.
We hope you have found your favorite coaster by now.
Anyway...
Contact us today to instantly print out your customize coasters. We cater any designs, any amount and any sizes.

Anything for your big day!



 

CONTACT US!

 
 Contact: +6 012 517 7336

 WhatsApp: https://goo.gl/QV9br9

 Facebook: https://www.facebook.com/coasterartmalaysia/

 Email: sales@coasterart.com

 Website: http://coasterart.com
Let's discuss your ideas & turn them into a reality.
×
---
---
---
Share this post
---
---